Leaps and Bounds Inflatable Course Rental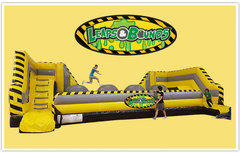 This awesome new rental from United Inflatable Rides is one you will have to see to believe! We now have a Leaps and Bounds Inflatable Course Rental ready for your next party or big event. This is a one of a kind giant obstacle course rental!

Does your family enjoy watching the different ninja challenges on TV? What if they could test out their own ninja skills? Well now they can! The Leaps and Bounds Inflatable Course Rental is made just for that. This unit is quickly becoming a favorite for birthday parties and big event rentals. This interactive rental features a series of 4 giant inflatable balls which each challenger must run or leap across. There are many ways to complete the challenge: run, jump, leap, or crawl. The goal is to make it to the other side without falling off the balls. But don't worry if you do! The floor of the pit is protected by our incredibly soft patented Zero Shock™ landing mattress.

Click Here

to learn more.

This is a large and heavy rental so please be aware that our truck will have to be able to pull in right where the rental will be set up.

United Inflatable Rides loves setting up our large rentals for parties and special events! We are ready to go above and beyond our customer's expectations and provide top notch customer service.

Contact us

today!



Check out

our blog on large events!