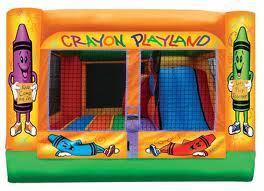 Mini Toddler Crayon Combo-dry
Actual Size: 13ft x 11ft x 8ft




Crayola Has Never been Better!
Our colorful crayon land bouncer combo is excellent for younger customers only. Can be used indoors, large rooms, garages, because its only 7.10" tall.
Can be used for outdoor party's to, but if it rains can be brought inside to keep the little ones dry.
Provides hours bouncing fun! Naps are sure to follow.

The minimum and maximum passenger height is 36" to 52", or 3' to 5'4". Passengers of too different of a size should not bounce together.
The maximum weight per passenger is 100lbs.