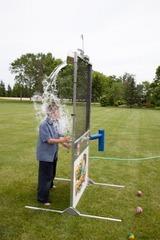 Interactive Beat The Bucket
BEAT THE BUCKET is one of the most unique and innovative games. One player throws water-logged foam balls (or juggle balls) at the two targets on the front of the station. A second player stands behind the station while trying to block the balls with a movable arm. If a target is successfully hit, the bucket above the defending player will dump. The bucket automatically resets and fills for continued fun.
How quick is your reaction time?