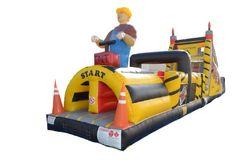 Demolition Zone Obstacle Course
$800.00
Dimensions: 52ftLx15ftWx12ftH
Outlets:
Monitors:
The Demolition Zone Obstacle Course
Leave the construction of the PENDOT behind you as you enter the demolition zone. This fun filled obstacle course will take you through tunnels and over obstacles as you avoid destruction. Climb to the top of the caution zone and see how fast can you slide into the finish line. Measuring 52ft long, this exciting new obstacle course rental stands over 15ft high. Climb & Slide, tunnels and obstacles; a great choice for any event.
Rock Climb Slide

Pop Ups Obstacles Look Like Boulders

Extremely Stylish With Pittsburgh Colors