eInflatables User Manual for
Emerald Ice (with Landing)
Fire and Ice (with Landing)
Welcome to the World of eInflatables!
eInflatables knows that you'll get many years of excitement from your new purchase. Please read this booklet carefully and always follow all of the safety precautions.
Also, please read your "Installation and Setup Manual" and follow all recommended procedures. Always make sure to stake down (tether) your inflatable as described to avoid injuries. Be sure to have (1) Trained Operator on this inflatable at all times. Make copies of this supplement and make sure your Trained Operators have one with them at each job site.
Thank you for your business and feel free to call us if you have any questions regarding your inflatable. Your partner in success, eInflatables.

http://www.einflatables.com
Toll Free: (800) 569-0719 | Phone: (562) 777-1140 | Fax: (562) 777-1161 | Address: 12405 Telegraph Rd., Santa Fe Springs, CA 90670
Safety Notices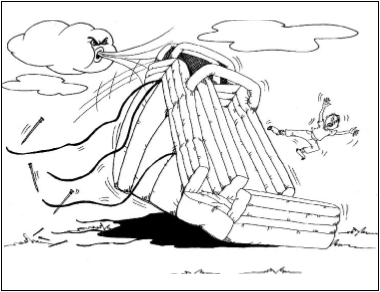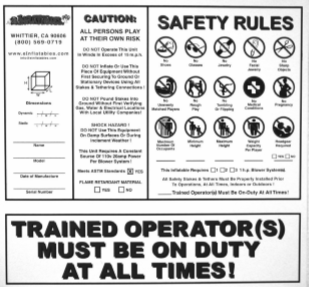 Never, ever leave the unit unattended, at any time. A trained operator should supervise the unit and its passengers at all times. Drowning can occur if unattended.
Ground stakes, 18" in length and 100% buried, are absolutely required before anyone can use the unit.
Do not allow the extension cord of the blower to get wet. Keep it far away from bodies and sources of water.
Do not operate the unit or let passengers inside if winds exceed 15mph. Take it down so that it doesn't blow away.
The recommended maximum load varies per each unit, but generally should not exceed 700lbs total. See rules attached to each unit.
If inflatable is ordered with flame retardent material, It has been tested and complies to NFPA 701 Large Scale Test.
To avoid electrical shock, only plug blowers into grounded outlets. Only use the required blower assigned to the proper respective unit in the table below.
If the blower technology fails (circuit failure, power outage, etc), there is a flap to minimize air loss. It will buy you time, because you must evacuate the inflatable as soon as possible, in this situation.
If the weather becomes inclement (rainy or sounds of thunder), take down the inflatable and wait for weather to improve before continuing.
Absolutely no sharp objects are allowed in the inflatable (examples: pins, keys, knives, paperclips, earrings, anything with a sharp edge or point). Shoes must be taken off before entry.
Do not apply wax to the slide.
On Passengers...

Always instruct safety. Make sure passengers understands and follows the safety rules.
The inflatables will have safety labels applied in an easily-located place. You and the passengers must read this label before playing.
Use a whistle to get the attention of the passengers and maintain control of the unit.
The minimum and maximum passenger height is 42" to 72", or 3'6" to 6'.
The maximum weight per passenger is 175lbs.
Do not jump onto the slide from the top. Position yourself in a resting seat position with feet dangling down the slide and push yourself forward.
Avoid landing on your head. No flips, somersaults, diving, or rough housing allowed. Slide down the slide feet-first only! It is additionally safe to cross your arms over your chest, too.
Passengers may not slide down the slide until the sliding lane and landing area is clear, first.
Do not crowd the slide or let more than one passenger use the slide at a time.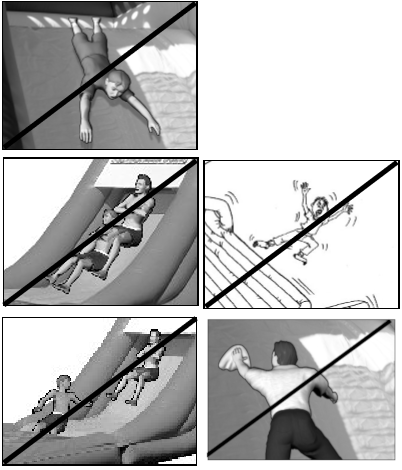 Tabular Details
| Name | Dimensions | Weight | Required Blower |
| --- | --- | --- | --- |
| Emerald Ice | 32' (L) x 19' (W) x 20' (H) | 375 lbs. + 110lbs for landing | 2HP GFCI High Output Blower |
| Fire and Ice | 32' (L) x 19' (W) x 20' (H) | 375 lbs. + 110lbs for landing | 2HP GFCI High Output Blower |
Included Equipment
(1) 2hp G.F.I. High Output Blower
Sun Shade
Removable Slide Cover
Removable Climbing Surface Cover
(5) Deflation Zippers
Reinforcement Strips on all Mattress Seams
Tethers, (6-8) 18%u201D Stakes, (4) 36%u201D Stakes
Repair Kit & Carrying Bag.
Recommended load (4) Player Over 42%u201D Tall, Maximum Height not to exceed 72%u201D. 175lbs Maximum Weight Per Person.
Directions
Setup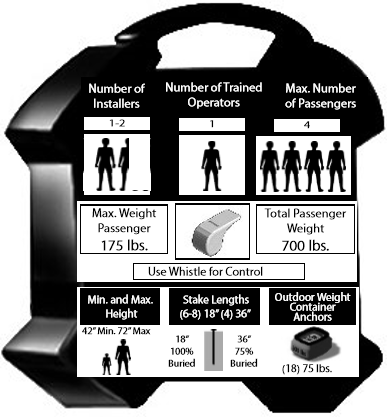 Read the "Installation and Setup Manual" completely, especially the safety warnings and the take-down/evacuation procedures.
Layout ground tarp for inflatable (not provided)
Remove unit from storage bag.
Position inflatable on tarp with a level ground area approximately 34' x 20'. Unit should have 10' clearance on all sides with 23' height clearance.
Connect G.F.I. blower to air tube making sure strap is firmly secure.
Close zipper(s) & water/air flaps on slide and pool.
G.F.I. Blower system requires a dedicated 20 amp breaker.
Turn blower on and steer the slide up with the guide tethers from at least 2 different opposing positions.
Secure all tethers firmly to stakes or sandbags after the unit is fully inflated. Bury stakes flush with ground.
Connect customer's water hose to Black hose of unit.
Do a safety check on the blower and extension cord. If electric Cord is damaged , Replace Immediately.
Extension Cords must be UL Listed for Outdoor use. Max Length 50' 14-3
Do a safety check of slide and pool covers.
Do a safety check on the interior and exterior surfaces of slide, landing or pool looking for any moisture, debris, rips, tears or seams coming apart. (If noticed,do not use inflatable until repaired.) Method of securing 18" & 36" Anchor Stakes:
After the Unit is fully inflated on firm Ground, such as grassed area
Secure all bottom tethers to 18" x 5/8" min. stakes
Entrance Procedures
Remove shoes and any fragile, sharp, or expensive items from passengers.
Long hair should be tied up and jewelry should be removed and set aside before entry.
Have passengers perform some light warmup stretches. They should bend and rotate the ankles to warm them up and help prevent someone from "twisting their ankle."
Locate the entrance to the inflatable and grab each ladder rung with both hands as you climb.
Take-Down/Evacuation Procedures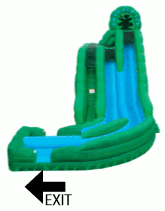 Before you set up the inflatable, read this instruction manual, including these procedures, completely.
Do not allow passengers to slide down the slide, if it is not the safest exit.
If it is safe to use the slide to exit, have passengers immedidately exit the landing area after they slide.
If passengers must use the ladder, make sure they are climbing down the ladder, and are not jumping or trying to walk down the slope facing away from the ladder.
Ensure that all passengers safely and calmly exit the inflatable unit. Evacuate quickly, but not in a disorderly panic.
If you believe there is a circuit failure, use the circuit breaker box to cut power to the outlet providing the blower its power. Call United Inflatable Rides to report a potentially unsafe blower. Wait for staff to arrive.
If you believe there is no circuit failure, switch the blowers to "OFF" to ensure that they no longer draw the power they require to blow air.
If the inflatable is safe to use and the environment is safe, return power to the blower devices. Wait until the inflatable fully inflates before letting passengers back on.
Copyright Notice for this Document
WARNING: A NOTICE TO OUR COMPETITORS
COPYRIGHTS AND TRADEMARKS: All product designs, product names, logos, trademarks, service marks, trade dress, Installation and Setup Manual, Supplemental Manuals and related material (whether or not registered with the United States Patent & Trademark Office) are proprietary to eInflatables and the sole property of eInflatables. Use of eInflatables product designs, product names, logos, trademarks, service marks, trade dress, Instruction Manuals and related material is strictly prohibited, except with the express written permission of eInflatables. All product designs, literature, photographs and related material (whether or not registered with the Copyright Office at the United States Library of Congress) are protected by the copyright laws of the United States and Internationally by the Berne Convention, and remain sole property of eInflatables. Copying, adaptation, or other use of eInflatables copyrighted works without the express written permission of eInflatables is strictly prohibited.